Stress-free wedding
<< Back to Tips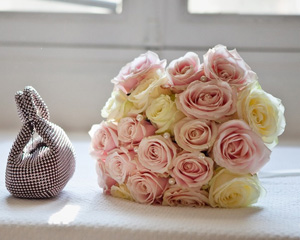 Have you dreamed of this moment so much, but right now after the euphoria of having answered "yes" you are now overwhelmed by anxiety? Always dreamed of a fairytale wedding but do not know where to begin in organizing it? Are you buried by an infinite number of proposals and you don't know which to choose? The fears and doubts that accompany an important step as is marriage add up with new sources of stress. Psychologists, and Italian experts even talk about the "stress pre-ceremony" syndrome which may create disputes between the spouses before they reached the altar: the choice of location, the discussions on the guest list, the reception, not to mention the requests of an intrusive mother in-law or overcaring mothers who are likely to create many misunderstandings between the couple. Here are some guidelines to clarify your ideas on steps to be addressed to reduce the stress of the preparations and have a memorable and elegant party, in perfect Italian style.

The party's mood
An advice before all others: it is important to understand right away what kind of wedding you dream of (formal, glamorous, Simply chic, romantic, original, fair, etc.). This will affect all other decisions. Before begging to search for the reception location and the dress you need to define the style of the party harmonizing the various elements in a single main theme.
Whatever theme you choose, items must be elegantly coordinated and the joining details clearly visible so that guests can grasp the sense.

The choice of the wedding dress
Even for the choice of the wedding dress you should consider the style of the ceremony to create a sleek and smooth ensemble. The secret to perfect dress? Avoid models in contrast with your figure and your personality. Choose an outfit that manages to make you feel at ease relying on common sense. But if you want to look like real princesses, pay attention to details, seemingly insignificant, that may result to be pitfalls in style.

Here are some examples: a wedding dress with a train is absolutely forbidden for ceremonies in the City Hall and requires that the groom to wear a Tight. The Tight is a morning dress, very demanding and to be used only for very formal occasions.If the groom chooses to wear a tight, all the men invited to the ceremony are forced to wear it. It's a choice to be made with caution that can embarrass many guests. If you've opted for a religious ceremony, it is best to avoid plunging necklines and sensual models that are not auited for a church. This regards also flashy jewelry, watches, sunglasses and handbag.

Wedding announcement cards
The guests must receive announcement cards at least two months before the wedding. The most elegant way to announce the wedding is the traditional card in Amalfi ivory paper, that opens like a book, also available online at very affordable prices. I suggest you write by hand or to have them printed in italics in English character set, coloured sepia, gray or blue. Even the letters of thanks will have the same style. What mustn't you do? Avoid writing your professional qualifications or including the card of the shop where you opened the wedding list!

A reception Italian Style
To celebrate your love you can give space to creativity and imagination. Italy will offer you an infinite amount of charming and enchanted places to make your party unforgettable. Whatever your choice, sea or countryside, design or classic, remember that the place of the party must be, most of all, functional. The wisest choice is to a place that has more areas to differentiate the moments of celebration and an indoor space to be used in emergency for bad weather.What are the things that just can't be missing? Toilets suitable for the number of guests, with planned extra rounds of cleaning, a cloakroom area and convenient parking for guests.

Finally, do not forget the little ones. Parents and guests will thank you! An excellent solution to create a space "fit for children" is to organize a separate table for younger guests with a menu dedicated to them. During the ceremony, you can provide a couple of babysitters to make them play and eat in a reserved space. Their parents will thrilled! Especially if there is an expert who's following them.